How many times a week does your family sit down at the dinner table? more importantly, how much do you talk as a family once you are there?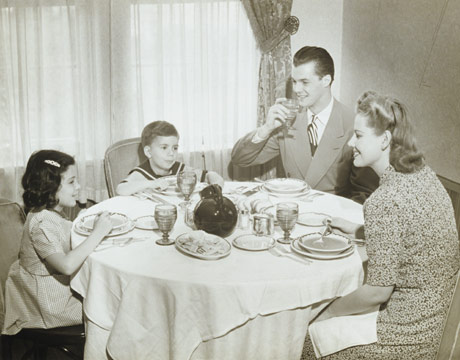 Family communication is critical for happiness, yet many families aren't sure how to make dinnertime more fun.
1. Tell Me Three
Ask each person around the table to share three things about their day. This works especially well with older kids, who all seem to be preprogrammed with the response "Nothing" when you ask them what they did that day.
If they are still reluctant, ask for a negative and a positive from the day.
You can also ask school age kids to tell you three things they learned that day.
2. Tell Jokes
The cornier, the better. Toddlers can participate too – task an older sibling with helping them learn a joke to tell at the table.
Here's a few sites to get you started:
3. Keep It Simple
Don't make dinner a complicated affair. Between homework, sports practices, scouts and music lessons, kids (and parents!) are busy.
Plan your meals in advance and get everyone involved so that you can all enjoy dinner. Little ones can easily set the table, younger school age kids can clear and older school age kids can do the dishes (yay!!).
So now I'm wondering, how often do you sit down to a family dinner? Have any tips to share? As always, leave it in the comments!