As a domestically challenged mom, I LOVE organizational "stuff." I don't always use it correctly or often enough, but it's still fun to have. This week, I am able to get on my schedule of interviewing experts and this week totally delivers.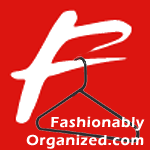 This week, I had the pleasure of interviewing Candice from Fashionably Organized. She is a mom of three, so she knows what she is talking about when it comes to being an organized mom. She also happens to be my blog buddy and I may have a bit of a blog crush on her, but that's neither here nor there. Enjoy!!
1. With kids come stuff and lots of it. Can you offer 2 simple ways for moms to wrangle kid paraphernalia?
It's super hard especially if you have more then one child.  One thing that every mom needs to do is commit themselves to one system and stick to it right away.  Do not allow yourself to slack because that's when papers become unbearable.  I use two very important items that help me tremendously all year round.  One is The Homework Caddy (my review).  This hanging system is great to keep all current paperwork you will need in a moments notice together.  My oldest son knows that when he gets home he must put his paperwork in the various pockets.  I also keep all of his supplies in the little pockets so he doesn't ask me for his supplies. <<alana's note – I can't imagine getting my kid to do this. I can't even get them to put their underwear in the laundry basket>>
Another item to consider is the MomAgenda Kitchen Folio (my review).  This ingenious product is a folio system that is meant for you to keep all of the mommy stuff in one place.  I place each child's school roster in there.  I keep each child's school calendar in there.  Each child's extracuriclar activity calendar in there.  It becomes a one stop shop.  Guess where I keep it?  In one of the above mentioned pockets.
Lastly, I have found a solution to the overwhelming amount of paperwork that comes home.  From worksheets to artwork there's just too much.  On top of it all I want so desperately to keep all of those items that mean a lot and want to be sure to preserve them for each child to remember their work.  I use the Lingo box from Ikea to put all of the papers coming home into (my review).  It is a huge box and big enough to contain all of the years paperwork.  At the end of the year I go through the box and weed through what can be kept and what must go.  I label the side with the child's name and year and then up it goes to the attic.  I leave the boxes in my laundry room on a shelf and when they come home with their own special work II just take it and put it in the box.  No extra paperwork all over my house. <<alana's note – no extra paperwork? None? <looks at the stacks of paper> >>
2. Clutter is also a big mom issue – what is the easiest way for moms to reduce clutter in their homes?
<<alana's note: I know for me wrangling toys and books for the children is my biggest hurdle as far as clutter goes.  I think I could really wrangle everything else so much better if there weren't toys and books everywhere.  I'm sure there are a lot of moms out there who could agree with me. At least, I hope there are. >>
My kids have a playroom and it is a complete disaster at all times.  When the boys actually get to cleaning it, I can say that I have created a system that is semi manageable.  Plastic bins you can see through are really important.  <<totally second this!!>> Categorize.  Believe it or not, kids work better at cleaning and picking up if they were to have categories.  I tell the boys to take one of the bins and put all of their cars in it.  I find it interesting that if you don't have a bin that a toy falls into they put it aside and claim to not know where it goes. It leads me to believe that as always structure is what they need. <<this is the key, moms. Structure!>>
Another big issue is paperwork and mail.  Find a great mail sorter for you.  Get into the habit of recycling junk mail right away.  Some people keep a trash can or box near their mailbox to dump junk mail.  I think it's a great idea.  Then once a week you dump all of that stuff in the recycling bin.
In the end I would say that bins whether cheap or expensive are going to help you out tremendously in so many ways.  Set aside one day a week where you will go through the bins.  Otherwise those get too cluttered as well.
3. There are all these different parts to being organized (decluttering, taming paper, kids toys, closets, kitchens, etc) and it quickly gets to be very overwhelming. In your opinion, where is the best place to start?
I have read so many articles and suggestions on how and where to start, but in the end I always think that it has to be easy for YOU.  The best advice I heard is to start out just focusing on one thing for 15 minutes each day.  I always think that if you were to do 15 mins a day and multiply that times 7 days you come to realize that you've spent more time cleaning/organizing then if you had agonized on where to begin.  No project is too big if you start out small.
Papers are our worst enemy learn to weed them out right away.  When you get the mail throw away what you don't need.  Learn to wrangle your papers as soon as you see them.  If you can master this you master a large part of clutter.
See why I have a blog crush blogstalk like Candace? Helpful, easy to follow advice!
So now I want to know – what are your biggest organizational challenges? What can I help you with (other than me doing it, because that is SO not happening)? Leave it in the comments!